Media articles
2021
Garden Delights with The Hive Gallery Bellarine Times 29 April VOL 14 No 18 Pg. 31, Read article.
Also in this issue view Exhibition invitation on Pg. 29 and Shortlist Announced for Geelong Contemporary Art Prize on Pg.14.
2018
My oil painting of Latrobe's Cottage and Garden is shown on Pg. 29 of The Gardens of the National Trust of Australia (Victoria) by Anne Vale
2018
'The canvas is always greener' Megan Backhouse Saturday Age Gardening, 17 March. This article on my garden's inspiration for my painting was published during my exhibition 'Succulents in Situ'. It was also presented as 'Hemmed in by subdivision, artist plants a creative haven' – Sydney Morning Herald. This can be read on line.

2016
Imago Mundi, Looking Down Under 200 Contemporary Australian Artists, Luciano Benetton Collection Pg. 365 – 6
2015
'An invitation to wonder' (26 selected artists) Chapel on Station Gallery10th Anniversary Tribute Book
2011 Verdant landscapes close to home
Marion Chapman & Jo Reitze
'Garden Glimpses' presented an exhibition of their small gouache paintings.
at Chapel on Station Gallery, Corner Station St. and Ellingworth Pde. Box Hill
Dates: 24 November - December 2011
Read 'The Age' review on 23 November 2011
2010
MSWPS – In Celebration of the 100th Annual Exhibition Pg 66
2009 Beyond the Garden Wall
Twenty-two gardeners and their gardens
Sue Barnett and Jo Reitze
www.blurb.com/b/822797-beyond-the-garden-wall
2006 Gardening Australia Magazine - A Brush with Nature
Recently Gardening Australia Magazine, offered to promote my garden painting in Clippings by running a competition for readers to write why they wanted me to paint their gardens.
Kez Viola wrote this winning poem.
My garden is a masterpiece
Of wild and climbing vine
On canvas it would forever be
My refuge, my haven divine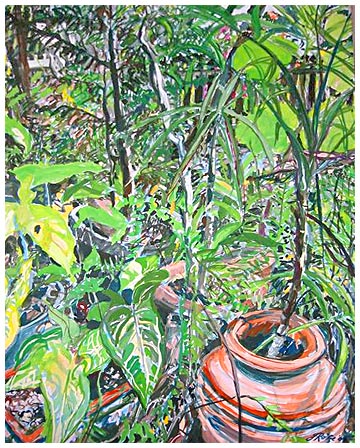 Last Thursday and Friday (31-8-06 & 1-9-06) I painted Kez's garden in Clayfield., an Inner Brisbane suburb. It is a wild rambling garden of tropical plants and mature trees that featured a wide range of differently shaped foliage in many hues of green. Contrast was obtained by attractive terracotta pots and glimpses of a neighbours vibrant bougainvillea. My visit coincided with two days of intermittent rain in Brisbane. Ironically, it was warmer in Melbourne. This could have been disastrous, however, Kez's rustic Queenslander had a small sheltered area under the house which overlooked the front garden and made a wonderful makeshift studio, sheltered from the elements.
I had a lovely couple of days painting and enjoyed meeting Kez and her husband. Kez is an artist too so we had much in common. I was pleased with the finished painting and it was good that Kez was excited by the result and delighted to have her garden immortalized.
The Clippings competition has already worked as I recently completed three commissioned works for a lady who had read about me in Gardening Australia Magazine and visited my web site. I painted her mother's garden in Scotland, her previous garden in Carlton and a garden glimpse of her friend's garden in England. These were painted from photographs viewed on the computer screen. This is not my usual way of working but I found it very satisfactory as the images were bright and I could combine viewpoints and zoom in on details.
Hopefully, I shall have the opportunity to capture some more beautiful gardens for garden lovers, now that gardens are looking magnificent in Spring.
2005 Gardens on canvas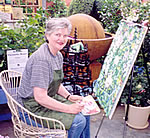 An article written by Janet de Silva in A2 Gardening from The Age Saturday, July 16 2005 edited by Denise Gadd
Combine gardening with painting and you have an idyllic lifestyle, writes Janet de Silva.
Mention garden painter and Claude Monet comes to mind. It's a hard act to follow for any artist, but one that must be almost impossible to resist if you are a passionate gardener who paints.
Melbourne artist Jo Reitze is certainly in this category. Recently retired as art coordinator at Canterbury Girls Secondary College, Reitze has painted gardens in her spare time for more than 20 years and can't imagine a better subject.
"There is such diversity of colour, shapes and tones" says Reitze, whose vibrant oil and gouache paintings have earned the 55-year-old artist civic and Rotary prizes.
A Fellow of the Victorian Artists Society and a keen gardener, Reitze (who taught under her married name, Mrs de Carteret) has retired from full time teaching to establish herself as a painter of private gardens.
She has completed several commissions this year and enjoys setting up her easel in other people's gardens.
"I've always felt that gardeners are some of the loveliest people I know," she says. "It's wonderful to be able to share their passion for gardening."
Reitze describes her painting style as "expressive and impressionistic". Her emphasis is on contrast and colour rather than fine botanical detail. "I'm not into detail," she says. "my paintings have strong tonal contrast which I think you get from nature". Contrasting shades of green foliage dominate her work – as they do in the best gardens.
"People say greens are difficult to paint but I've never seen that. If you have a lot of green it seems to help all the different colours of a garden come together. Things don't seem to clash."
Born and raised in Ballarat, Reitze says her love of gardening and plants were inspired by childhood visits to her aunt's home. "My aunt lived in an old Victorian house with a wonderful magnolia tree and lots of cottagey plants. Every time I would visit, she would walk around the garden and give me little posies of flowers."
Having spent her early teaching years in the Western District, Reitze was able to visit and paint some of the regions most spectacular gardens, which she hopes to be able to do again. She has also painted coastal gardens and spent many weekend in public gardens around Melbourne and Victoria.
But she also enjoys the intimacy of painting in smaller suburban gardens. She has painted countless vistas of her own garden in Surrey Hills, many from a favourite sheltered corner.
The garden, while blessed with several well-established trees and shrubs, reflects Reitze's "magpie" approach to gardening. Nothing is planned. I like a lot of ground cover but it's mostly a case of survival of the fittest."
Reitze believes all gardens have areas that are worth painting. "There are always beautiful spots in a garden, even if the rest of the garden isn't up to scratch. It might even be a collection of pots."
Reitze says some of her clients like to personalize their painting with a glimpse of their house or veranda. During her most recent commission – a garden in Hampton – Reitze was asked to focus on a fountain in the garden. The painting was a surprise 60 th birthday present from a wife to her husband and Reitze completed it over a "blistering hot March weekend" while the couple were out of town. Another of her recent paintings – a garden in Eastern Beach, Geelong – now hangs in a nursing home. "A painting can help keep a bit of that person's garden with them," says Reitze who thinks the idea of a garden painting as a memento may also appeal to people who are moving to smaller apartments. ""More than a photograph, a painting seems to immortalise a garden."
And yes Reitze visited Monet's famous garden in Giverny, about 15 years ago. She was determined to paint in the garden, but reasoned that her "schoolgirl French" would be far too rusty for her to ask permission. In any case, she suspected that permission might not be granted. Instead with the audacity common to many an Australian tourist who has travelled halfway around the world to visit a special place – she simply found a pretty spot in the garden and set to work on paintings sized to fit in the bottom of the suitcase.
A crowd soon gathered around her and one little girl asked if she was Monet's wife. "I just envisaged that the following weekend all these people would arrive in droves with their easels and canvas," she laughs.
Reitze completed two paintings of Monet's garden, which now hang in her living room. But it is the paintings of her own garden that she treasures most.
An exhibition of Reitze's work, Gardens and Greenery, is being held at the Victorian Artists Society Gallery and will be opened next Friday by Mary Klestadt, regional co-ordinator of Australia's Open Garden Scheme.
A special viewing of the exhibition will be held on July 24 as a fundraiser for Canterbury Girls Secondary College. One of Reitze's painting – a study of ginger plants – will be raffled for the school.
Commissioned paintings by Reitze range from a few hundred dollars to more than $1000. for further information, or to organize a commission, ph: 03 9808 2611