Exhibitions
Events 2023
Jo regularly exhibits at The Victorian Artists Society and annually with Melbourne Society of Women Painters & Sculptors.
(These as well as works in Rotary and other group shows will be shown on Instagram JOREITZEartist accessible from home page.)
Upcoming Events 2023
THE BELLARINE ART TRAIL
4 & 5 November
Jo Reitze
#24
The Hive Gallery
41 Smithton Grove. Ocean Grove
#36
Rotary Club of Ocean Grove 12th Annual Art Show Jo Reitze, Judge 2023 (See a selection of Jo's paintings in oils or gouache and drawings in pen on the judges display panel.) Point Lonsdale School Hall 22 Bowen Road Point Lonsdale.
TASTE of the TRAIL EXHIBITION
Bellarine Arts Trail 23
21 October - 7 November
At the Arts Hub
5 Clifford Parade
Barwon Heads
CONTEMPORARY DRAWING BIENNALE 2023
Polish Art Foundation Incorporated
Exhibition of Finalists
Opening Night: Thursday, 19 October 7pm
No Vacancy Gallery
Ground Level, 30-40 Jane Bell Lane
Melbourne
JO REITZE in the CHANDELIER ROOM
The Royal, Queenscliff
26 August - 17 September
Past Events 2023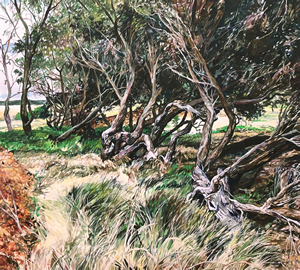 Featured work in Lon Surrounds - At Lon
Winner A.M.E. Bale Art Prize for Works on Paper 2022
Winner Borough of Queenscliffe Art Award
Queenscliff Art Prize 2023
LON SURROUNDS
Jo Reitze
A joyous exhibition of paintings in gouache or oils and pen drawings inspired by the landscapes, trees, flowers and gardens at Lon Retreat & Spa.
Opens Friday 7 July from 4 - 6 pm by The Mayor of The Borough of Queenscliffe, Cr. Isabelle Tolhurst.
Please join us for celebratory drinks and to view this new body of work, created by Jo since January 2023 as Lon Artist in Residence.
Venue: Lon Retreat & Spa
25 Gill Road Point Lonsdale 3225.
Exhibition runs 7 July - 20 August
Open Daily 10 am - 4 pm
SURROUNDS
Jo Reitze & Alexandra Lewisohn
5 - 28 May
Opens Saturday, 6 May 2-4pm
The Hive
1/41 Smithton Grove, Ocean Grove 3226
Download invitation
Download statement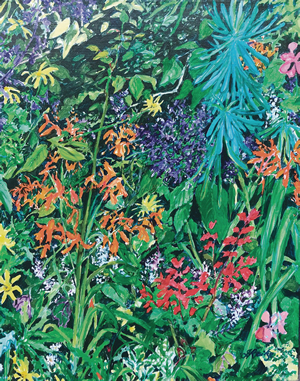 TWENTY FIVE: The first 25 years of Whitehorse Artspace
25 March - 29 May
'Back Garden in Winter' Jo Reitze included with major historic and contemporary works from The Whitehorse Collection.

GARDEN DELIGHTS
Jo Reitze
8 February - 14 March
View joyous gouache paintings of gardens, including Cloudehill, and flower studies at
Art of St. Francis'
Contemporary Art Space
326 Lonsdale Street Melbourne
Weekdays: 10am - 4pm Sunday 10am - 2pm
Opening by Jeremy Francis of Cloudehill on Sunday,12 February at 2.30pm
Download invitation
Download statement

Events 2022
QUEENSCLIFF ART PRIZE
Unique outdoor art exhibition on the historic Queenscliff Pier
1 November - 30 April 2023
Winner Borough of Queenscliffe Art Award –
Best artwork depicting an aspect of the region.
Among Featured Artists see queenscliffartprize.com.au
A.M.E. Bale Travelling Scholarship and Art Prize Exhibition 2022
25 November - 18 December
GLEN EIRA CITY COUNCIL GALLERY
Corner, Glen Eira and Hawthorn Roads, Caulfield
(Finalist in both Prizes for Works on Paper and Oils)
WINNER! A.M.E. Art Prize for Works on Paper
MAVIS LITTLE VAS ARTIST OF THE YEAR AWARD EXHIBITION 2022
VAS peer selected Exhibition
11 - 28 November
VAS Galleries
430 Albert Street, East Melbourne 3002

Concurrent Exhibitions at VAS Galleries,
MELBOURNE SOCIETY of WOMEN PAINTERS & SCULPTORS
113th Annual Exhibition. 'Changing Perspective 2022'
Jo has two large oils of Cloudehill in this show.
MSWPS 'Sunflowers for Ukraine Exhibition'
All proceeds donated to the Red Cross Appeal for Ukraine.
Jo has donated three artworks.
29 September -11 October
MSWPS Opening Event
2 October at 2pm
All welcome!
View all three exhibitions in these magnificently restored VAS galleries.
BLOOMING BEAUTIFUL Special Viewing
15 October at 3 - 5.30pm
In conjunction with Mark Bagally's Exhibition Opening in Cato Gallery
---------------
Please check back for future exhibitions and workshops. Jo regularly exhibits in group shows such as VAS Exhibitions. For details of these and to view her current works in progress Jo would be delighted if you follow her Instagram account, JOREITZEartist. You can also access her Instagram posts and her Redbubble Shop from the links on the Home Page.
---------------

Previous Events 2022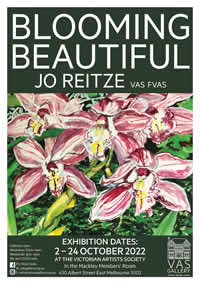 BLOOMING BEAUTIFUL
Jo Reitze
2-24 October
View joyous flower studies in
The Mackley Members' Room
Victorian Artists Society Galleries
430 Albert St East Melbourne
10am – 4pm weekdays
1 - 4pm weekends
Download statement
Bellarine Arts Trail 29 & 30 October
At Ocean Grove Uniting Church Hall with six artists.

SAGE ADVICE
2 June – 16 July
Whitehorse Artspace
This curated exhibition uncovers some insightful advice, wise counsel and intriguing recollections from sixteen notable Victorian-based artists including Jo Reitze. On show will be early and more recent artworks provided by the artist or drawn from the Whitehorse Collection.
(Google Sage Advice Whitehorse Artspace and it will take you to a link with my image and painting and a virtual walkthrough –link to the above statement)
Previous Events 2021
Jo Reitze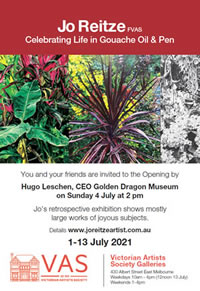 Celebrating Life in Gouache Oil & Pen
Major Retrospective Exhibition
1 - 13 July
Opening: Sunday 4 July at 2pm
Hugo Leschen, CEO Golden Dragon Museum
Victorian Artists Society Galleries
430 Albert Street East Melbourne
10am – 4pm weekdays 10am -noon 13 July
1pm – 4pm weekends
All welcome
For details:
Download invitation
Download/read statement
2021 Geelong Contemporary Art Prize
Thursday 10 June -22 August
Geelong Gallery
55 Little Malop Street Geelong
View 'Geelong Conservatory' 2021 oil on linen by Jo Reitze, one of the 28 works shortlisted from over 600 entries for this prestigious prize. Read more:
Geelong Contemporary Art Prize 2021
GARDEN DELIGHTS
A recreated version of Garden Delights has been extended till 27 June because of COVID closures in May. Read more...

GARDEN DELIGHTS
Jo Reitze
30 April – 30 May
Opening: Saturday, 1 May 2 – 4pm
The Hive
1/41 Smithton Grove, Ocean Grove
All welcome
For details
Download invitation
FLORA
Group Exhibition - Exploring the beauty and fragility of nature.
'Painting on the Hill' Heritage Exhibition
In 2002 my painting completed on the day, in Heritage Hill garden, was judged
Best Work by Neil Wanstall. Images and articles from this period are on show.
25 March – 1May
Benga House
66 McRae St, Dandenong
Mansfield Easter Art Show
2 -11 April 9am - 6pm
Masonic Hall, Highett St, Mansfield
Works by 40 artists
Presented by Richard A. Watson Fine Arts &
Without Pier Gallery

Previous Events 2020
Southern Buoy Studios
SBS Landscape Prize 2020
5 September – 3 October
Virtual exhibition of Finalists
Vote for People's Choice Award
Virtual Exhibition
Whitehorse Artspace Hidden Treasures
Heritage Week 2020
From Thursday 10 September
Southern Buoy Studios Portrait Prize
18 April - 6 June
Virtual Exhibition of Finalists
Vote for People's Choice Award
https://www.southernbuoystudios.com.au/jo-reitze
CELEBRATING LIFE IN SMALL WORKS JO REITZE
6 – 27 February
Opening: Thursday, 6 February 6 – 8pm
Jacquie Nichols-Reeves, Senior Arts Officer, Whitehorse Artspace
Kinross Arts Centre
Rear Toorak Uniting Church
603 Toorak Road, Toorak
Monday – Friday 10.00am – 3.30pm
All welcome!
EXHIBITION EVENT:
Gouache painting workshop with Jo Reitze
Kinross Arts Centre
10.00am – 3.30pm
Cost $95 per person
Bookings with payment essential – Ph: 9829 0340
Max12 participants
Download invitation (280KB PDF)
Previous Events 2019
MAVIS LITTLE VAS ARTIST OF THE YEAR AWARD EXHIBITION
19 November – 2 December
Victorian Artists Society Galleries
GROUP CONTEMPORARY EXHIBITION
345 Art Creative
345 Mont Albert Road, Mont Albert
June – November
EARTH
2 July - 31 August
An exhibition of 15 artists inspired by their love of the earth.
Space2b
144 Chapel Street, St. Kilda
RED FLOWERING GUM SCARVES - Concert Uniform Victoria Chorale
6 July
First wearing of The Victoria Chorale's new concert uniform in a performance of 'Contrasting Worlds' at Collins Street Baptist Church, Melbourne. The scarves and pocket squares feature the red flowering gum, a detail of 'Eucalyptus Ficifolia', a gouache painting by Jo Reitze. This uniform was also worn throughout Austria on The Victoria Chorale's Concert Tour in 2019
REDBUBBLE JO REITZE ARTIST
Over twenty paintings or drawings of Jo Reitze are available on numerous garments, homewares, assorted products, stationery and prints.
https://www.redbubble.com/people/joreitzeartist?asc=u
2019 LEN FOX PAINTING AWARD
8 June – 1 September
Exhibition of Finalists including Jo Reitze
Download the Catalogue
Castlemaine Art Museum
14 Lyttleton Street, Castlemaine
MINIATURE FLOWER STUDY WORKSHOP with Jo Reitze
Emerald Art Society
Saturday 4 May
SACRED EDGE QUEENSCLIFF
Finalist Jo Reitze
Queenscliff Uniting Church
3 - 6 May
DEMONSTRATION for OPEN GARDENS VICTORIA
Michelle's Garden, Nunawading
6 – 7 April
KENNETH JACK DRAWING AWARD EXHIBITION
27 March – 18 April
Finalist Jo Reitze
Australian Guild of Realist Artists
1 Inglesby Road, Camberwell

EASTBOURNE ART PRIZE
Finalist Jo Reitze
15 – 19 March
VAS Galleries
430 Albert Street, East Melbourne

Previous Events 2018
JO REITZE SUCCULENTS IN SITU
4 - 29 March 2018
Opening: Sunday 4 March 3 - 6pm
Sandi Pullman, Bachelor Applied Science Hon. (Burnley) currently studying Masters of Research (Deakin University) Head Gardener La Trobe Cottage will officially open the show.
Kinross Arts Centre Gallery,
603 Toorak Road, Toorak (Located in the grounds of Toorak Uniting Church (Tram stop 39)
Gallery hours: 10am – 3pm Monday – Friday
Weekends by appointment.
Megan Backhouse wrote 'The canvas is always greener' for Saturday Age Gardening. It was published on 17 March during my exhibition. This article on my garden's inspiration for my painting was also presented as 'Hemmed in by subdivision, artist plants a creative haven' – Sydney Morning Herald. This can be read on line.

---
Previous Events 2017
MAVIS LITTLE VAS ARTIST OF THE YEAR AWARD EXHIBITION
18 November – 5 December
Opening Tuesday, 21 November at 7pm
Victorian Artists Society Galleries, 430 Albert St., East Melbourne
This prestigious award is awarded to the artist receiving the most votes from exhibitors throughout the year, including in this exhibition.
TOORAK VILLAGE ART WALK 2017
16 October – 12 November
Winter Garden, oil on canvas 122x91.5 cm is on display at
Egon Cakes, 472 Toorak Road, Toorak
DEMONSTRATION for OPEN GARDENS VICTORIA
11 & 12 November 10am – 4.30pm
Woodcote
73 Pascoe Avenue, Kilsyth
Entry $8 (Under18 free) Students $5
---
Previous Exhibitions 2016
LEGACY OF THE IMPRESSIONISTS
18 August – 17 September

Contemporary artists, Mark Dober, Kathy Fahey, Philip Davey and Jo Reitze have been invited to exhibit along side significant works of the Australian Impressionists, including Frederick McCubbin, Arthur Streeton and Tom Roberts, their teacher Louis Buvelot and following generations such as E. Philip Fox.
Whitehorse Artspace, Box Hill Town Hall 1022 Whitehorse Rd., Box Hill Hours: Tues-Fri 10.00am to 4.00pm, Sat 12 00 to 4.00pm
LITTLE GEMS
Marion Chapman & Jo Reitze
A joint exhibition of small works
28 July – 10 August
Opening: Thursday 28 July at 7pm
Special Viewing: Sunday, 7 August
Meet the artists and enjoy Devonshire tea
Chapel on Station Gallery,
Cnr. Ellingsworth Pde. & Station St., Box Hill 3128
Gallery Hours: Tuesday – Friday 11.30am - 3pm
Saturday 1 – 4pm, Sunday 4.30 - 7pm
Download invitation
RECOLLECTIONS

Louise Foletta, Celia Beeton, Jo Reitze and Marian Rennie
Opening: Thursday, 28 April 6.30pm
Victorian Artists Society
430 Albert Street, East Melbourne
Exhibition: 28 April – 3 May
Previous Exhibitions 2015
GARDEN GLIMPSES
Jo Reitze 4 – 22 November
Opening Wed. 4 November 6.30 – 8pm
Tacit Contemporary Art
312 Johnston Street Abbotsford, Vic 3067
Wed - Fri 11 - 6pm, Sat - Sun 11 - 5pm
Download exhibition photos
Annie Finkelde & Jo Reitze
'INSPIRED BY NATURE' 1 – 6 April
Ocean Grove Uniting Church Hall
Corner The Parade and Eggleston Street, Ocean Grove
Download invitation
JO REITZE 'PUT SOME COLOUR IN YOUR LIFE'
I am delighted to be featured on this highly regarded series and thank Graeme Stevenson and Sophia Stacey for making this possible. Whereas most artists are shown in their studios, I chose to be filmed painting in the magnificent Cloudehill Gardens where I was formerly Artist in Residence. The jazz-tinged cinematic backing is by the talented Australian pianist and composer. Paul Spurling from his August Ep.
Initially screened on Sunday, 15 February on Channel 74 TV4ME Jo's episode has since been shown throughout the world. You can click on the arrow to see it here.
View www.colourinyourlife.com.au for detail on being featured and to watch other episodes. I hope you enjoy my episode and that of other artists.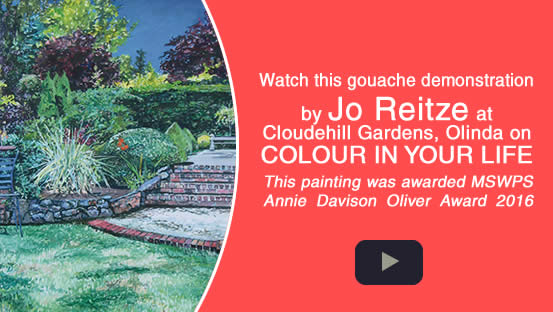 Or watch Jo's video in a new window - click here
---
Previous Exhibitions 2014
Jo Reitze 'OCEAN GROVE IMPRESSIONS'
16 - 21 April
Ocean Grove Uniting Church Hall
Corner The Parade and Eggleston Street, Ocean Grove
Walkthrough of the Ocean Grove Impressions show (PDF 2.60MB)
Invitation and details (PDF 650KB)
Artist's statement 450KB PDF
"Summer" at Quadrant Gallery
72 Barkers Road, Kew
Group exhibition of small works including five of my flower studies
Show runs from 28 November until 1 February 2014
---
Previous Exhibitions
2013
Picture this… Beautiful Gardens – Traditional & Wild
Botanic Wonders… Spring at its Best
An exhibition of Paintings, Watercolours & Prints by 14 Victorian Artists
At Domain House Gallery
Royal Botanic Gardens Melbourne - Dallas Brooks Drive
From 7 - 24 November
Thursdays 12 - 8pm Fridays - Sundays 11am - 5pm
Invitation for the opening of this event (PDF 321KB)
---
The ARTIST'S GARDEN
WHITEHORSE ARTIST JO REITZE EXHIBITS
AS PART OF THE INVITED ARTIST PROGRAM
8 AUGUST – 7 SEPTEMBER 2013
WHITEHORSE ART SPACE
Located at Box Hill Town Hall Vic 3128
Phone: 9262 6250
Walkthrough of The Artist's Garden
(PDF 3.60MB)
Invitation to this event
(PDF 130KB)
---
Previous Exhibitions
2012
Jo Reitze - CLOUDEHILL IMPRESSIONS
A series of 16 gouache paintings that capture the essence of this magnificent hillside garden, in all seasons. As Artist in Residence she completed all works on location.
The exhibition runs from 12 - 25 April 2012
at Chapel on Station Gallery,
Corner of Station Street and Ellingworth Parade, Box Hill.
Official Opening
by Jeremy Francis,
owner and creator of Cloudehill
on Friday, 13 April from 6 – 8pm
Devonshire tea with the artist
Sunday, 22 April 4.30 – 7pm
Artist statement:
It gives Reitze great pleasure to show these vibrant paintings in Cloudehill's twentieth year. Cloudehill is a significant place in many people's lives and this exhibition is sure to delight them as well as other garden and art lovers.
Cloudehill is a glorious Olinda garden, justly regarded as Australia's finest. It is the realization of the vision of Jeremy Francis, the owner and artistic inspiration behind Cloudehill. Jeremy has carefully selected plant colours and textures to create beautiful compositions that require no artistic licence from the painter. Man made structures such as paths, walls, sculptures and pots complement the organic shapes and patterns of foliage and flowers. This is a garden artist's paradise. Reitze has painted numerous gardens but none of such great variety and beauty. She is proud of these paintings and is delighted that Jeremy will Officially Open this joyous exhibition.
2012 Upcoming Work Shop and Demonstration
Heritage Hill Adult Workshop and Talks
Jo Reitze - 'Art in the Garden' at Heritage Hill Museum & Historic Gardens, 66 Mc Crae St. Dandenong
17 April 2-3.30pm
Jo will demonstrate gouache painting techniques and then give participants the opportunity to create a little plant study from direct observation, either in the garden or viewed through the windows.
Marion Chapman & Jo Reitze
present:
COME INTO THE GARDEN
an exhibition featuring their large garden paintings in oils, gouache or acrylics.
Second joint exhibition with Marion Chapman
Following the success of Garden Glimpses in 2011
Venue:
The Gallery
Bayside Arts and Cultural Centre
Brighton Town Hall
Corner of Carpenter & Wilson Streets
Brighton (Melway 67 F10)
Dates: 21 January – 12 February
Opening hours:
Wednesday – Friday 11 - 5
Saturday & Sunday 1 – 5
Entry to the exhibition is free
All welcome
The exhibition will be Officially Opened by Denise Gadd, Gardening writer, The Saturday Age on SATURDAY 28 JANUARY 2012 at 2pm
Follow this link to the delightful article by Denise Gadd about their work.
All paintings in this exhibition are available for sale. Email jo@joreitzeartist.com.au after January 21 if you require the price list of her paintings in this show.
About the joint exhibitions of Marion Chapman and Jo Reitze:
In 2008, Marion and I met at Life Drawing sessions arranged by Melbourne Society of Women Painters and Sculptors. We soon learned that we shared a passion for gardening, painting gardens and for using gouache. This inspired us to plan a joint exhibition that soon evolved into two. Both exhibitions will feature impressions of our own gardens as well as many public and private ones.
Marion resides in Hughesdale but lived in England for ten years where she studied painting at the City and Guild of London School of Art. There she was inspired by English gardens and landscapes. Marion now attempts to capture the essence of life around her, through her images of gardens, landscapes, interiors and still life.
In clearly individual ways, we create joyous, expressive compositions that freely capture the essence of the scene. Marion's paintings invite the viewer to look beyond interiors into the garden, while mine enclose you in magnificent environments. Our paintings welcome you into the garden, hence the title of our Brighton show- 'Come into the garden.' We both are inspired by direct observation. While my paintings are completed on location 'en plein air', Marion also works in her studio. l use line and colour to bring coherence to the diversity of the garden, whilst Marion attempts to explore the relationship between the exterior garden and the interior, be it a room or an individual.
Marion's beautifully designed works are characterized by her harmonious palette and broad, painterly approach. My paintings are freely executed with lyrical, almost calligraphic mark-making and vibrant colours, enhanced by strong tonal contrasts. As in nature my works are unified by a range of green hues. Marion often places figures in her compositions while my gardens are uninhabited. Mine are often viewed from a close vantage point with clearly recognizable plants and features. Marion, like the French Impressionists, often chooses to view her gardens from a high vantage point. We both paint in gouache and oils while Marion also uses acrylics. Our paintings are innovative and much more than the photographic; they celebrate the beauty of nature.
Painting gardens and gardening have given us great solace. In turn we hope our joyous works will give you pleasure, be you art or garden lovers, viewers or buyers. We hope you all enjoy our diverse approaches to similar subjects and welcome you to both exhibitions.
---
Previous Exhibition 2011
Marion Chapman & Jo Reitze
'Garden Glimpses' presents an exhibition of their small gouache paintings.
at Chapel on Station Gallery, Corner Station St. and Ellingworth Pde. Box Hill
Dates: 24 November - December 2011
Dr. Lee Emery will open this exhibition on 24 November, 6 - 8pm
We invite you and your friends to the opening. We will be delighted to see you then or at other times.
Read 'The Age' review on 23 November 2011
---
Previous Exhibitions 2010
'In the Garden'
Joyous flower studies, garden paintings and drawings by Jo Reitze FVAS
Heritage Hill Museum and Historic Gardens
Benga House, 66 McCrae Street Dandenong
September 19 - October 19
Wed – Fri : 10 - 4, Sun : 12 - 4

You and your friends are invited to the Opening by Neil Wanstall at 2.30pm, Sunday, September 19
Join Jo for a special gouache workshop in the gardens of Heritage Hill on Tuesday, October 5 - Bookings essential
'Garden Glimpses'- two exhibitions in Castlemaine
during The Castlemaine & District Festival of Gardens
'Garden Glimpses' at The Albion
152 Duke Street, Wesley Hill, Castlemaine
October 29 - November 7
'Garden Glimpses' at The Coffee Bean
231 Barker Street, Castlemaine
October 23 - November 14
---
Previous Exhibitions 2009
October 5 - 30
Beyond the garden wall revisited - Paintings and Text
Australia on Collins
Level 5
260 Collins Street
Images of Age Exhibition
2009 Victorian Seniors Festival
Beyond the garden wall was devised and mounted by Surrey Hills Neighbourhood Centre. Bringing older people, artists and the community together to promote positive attitudes to ageing, it looked at gardening in the lives of Boroondara seniors through oral histories, paintings, photography, film and diaries. Jo Reitze's paintings record the rich tapestries created of the participants' gardens. The text describes their philosophies and influences.
(Sample slide show - click here)
October 31 - November 3 (Melbourne Cup weekend)
Jo Reitze paints at the National Rhododendron Gardens
Georgian Road, Olinda 3988
13 June - 19 July 2009
Sea Air - Jo Reitze

Geelong Gallery
Atmospheric paintings inspired by the coastal environment of Ocean Grove with images of river flats, windswept trees and Barwon River.
March 21 - May 10
JO REITZE paints and exhibits at Cloudehill
Exhibition in the restaurant from MARCH 21 - MAY 10
Demonstrations on MARCH 21 & 22 and APRIL11,12 & 13
An exhibition of joyous garden paintings and flower studies in gouache or oils including Cloudehill borders, will be opened by Christine Reid, renowned garden writer and journalist on March 27 at 5.00pm.
Jo will also demonstrate in gouache and will be happy to discuss her autumn paintings of Cloudehill as they unfold.
Cloudehill Gardens, Nursery and Restaurant, 89 Olinda-Monbulk Road Olinda Ph: 9751 1009 - Hours: 10.00am – 5.00pm (7 days a week)
View www.cloudehill.com.au
February 28 - March 14
JO REITZE at Wine Justice Gallery, 26 Waltham Street Sandringham
An exhibition of seascapes, plant studies and garden landscapes.
Special viewing: Saturday, February 28
Gallery Hours: Monday to Saturday Phone: 95980155
---
Previous Exhibitions 2008
November, 2008
8, 11, 12, 13, 14, 15, 18 - 21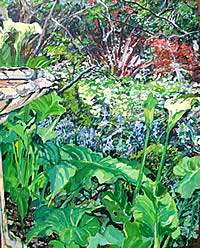 'BEYOND THE GARDEN WALL' exhibition
(Sample slide show - click here)
Jo Reitze has been delighted to be involved in a very exciting and innovative project, initiated by Surrey Hills Neighbourhood Centre.
'BEYOND THE GARDEN WALL' focuses on gardening and its significance in the lives of twenty senior residents from across Boroondara.
This exhibition will feature twenty oil paintings of diverse gardens by Jo Reitze. Her paintings vividly capture the essence of these gardens, reflecting the individuality of their creators.
'BEYOND THE GARDEN WALL' exhibition will include all works generated from the project; bound oral histories, photographs of participants in their garden, the film of the project, personal visual journals as well as Jo's paintings.
Jane Edmanson, well known presenter of ABC Gardening Australia and 3AW will open the exhibition on November 7.
The free exhibition at the Augustine Centre, 2 Minona Street, Hawthorn is open to the public on November 8, 11, 12, 13, 14, 18 - 21 from 9.30am - 4.30pm. "Beyond the Garden Wall" was funded by The Department of Planning and Community Development with sponsorship from the Bendigo Bank, The Augustine Centre and Neighbourhood Centres in Boroondara.
---
Previous Exhibitions 2007
Jo Reitze
NEXT DOOR
110 Broughton Road Surrey Hills
December 18 – December 24 2007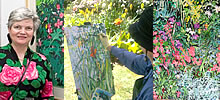 I am delighted to invite you and your friends to view my paintings in our recently purchased adjoining property on the corner of Beech Street and Broughton Road, Surrey Hills.
A special viewing with nibbles and drinks will take place throughout the day on Wednesday, December 19 from 10am – 8pm.
I look forward to catching up with you on this occasion or before Christmas to show you my many new works.
The exhibition can also be seen from 10am – 5pm weekdays (Friday till 4pm) and 12pm – 4pm at the weekend or at other times by appointment. Phone: 98082611 or Email: jo@joreitzeartist.com.au
Paintings will be on sale, with many small works suitable for Christmas presents. Cards will also be available for sale. The paintings will include flower studies and garden paintings in a range of sizes, impressions from our travels as well as images of the bay and Wattle Park.
I paint gardens on commission and will be pleased to give quotations, brochures and information about immortalizing your garden or those of your friends and family.
---
Previous Exhibitions 2006
Surrey Hills Festival Our Neighbourhood - Our Earth
March 3 - "For the beauty of the Earth"
Jo Reitze vibrant expressive flower studies and garden paintings will be exhibited for sale in the front room of Surrey Hills' Neighbourhood Centre's historic Cottage, 1 Bedford Ave. Surrey Hills, on Saturday, March 3 from 10am – 4pm. Jo will also demonstrate in the cottage garden and would be delighted to discuss her approach. The cottage will also become a festive garden café decorated with food, flowers and plants and will also exhibit the Botanical paintings of Bev Ednie
March 10 - Rutherglen Art Show.

Jo. Reitze will be guest artist and will feature her flower and garden paintings. Her painting "Prelude to Spring" will be raffled at this exhibition. Jo will also demonstrate during this show. The Art exhibition will be opened by Mr. Ken Jasper MLA on March 9 at 7.00pm. The exhibition coincides with Tastes of Rutherglen - Two indulgent weekends of food and wine on March 10 -12 & 17-18
"Prelude to Spring" gouache on paper $500.
Garden Glimpses (Sept. 20 - Nov. 14 2006)
Ch'i Hair Studio and Gallery, 193 Canterbury Rd., Canterbury 3126, opposite Canterbury Gardens.
SPECIAL VIEWING: Sunday, October 29th, 2 - 4pm
All things bright and beautiful (April 20 to May 7 2006)
Paintings of gardens, land and sea
Kinross House Uniting Arts Toorak 603 Toorak Rd. Toorak
Jo's Artist Statement
---
Previous Exhibitions 1976 - 2005
2005 Jo. Reitze Artist in Residence at Acorn Nursery and exhibited in Oaks Café, Surrey Hills
2005 'Gardens and Greenery', Cato Gallery, VAS Galleries opened by Mary Klestadt
2005 Colac Otway 'Garden Art Exhibition at Narroghid, Elliminyt
2004 'Plants and Places' - Canterbury Girls' Secondary College
2001 Special V.A.S. Exhibition at The Royal Arts Society of NSW Lavender Bay Galleries
2000 Bridges Exhibition, Group Exhibition of Teachers, Chiara Goya Gallery
2000 Canterbury Creates'–Group Exhibition
1999 ''Staff Arts' – Group Exhibition
1998 Group Exhibition, 'Art Matters', Canterbury
1998 'Teaches Art' – Group Exhibition
1995 'All Things Bright and Beautiful' Green Gables Nursery Gallery
1994 ' Garden Glimpses', Cato Gallery, V.A.S. Galleries opened by Dr. L. Emery
1993 'Mainly Miniatures', Surrey Hills Neighbourhood House
1991 The Artist's Gardens', Solo Exhibition, Victorian Artists' Society Galleries, opened by A.W. Harding
1988 Group Exhibition, Hobson's Bay Gallery, Queenscliff
1988 Group Exhibition, Shepparton Regional Gallery
1985 Heritage Exhibition, Victorian Artists' Society
1985 'Rhapsody in Green' First One Person Show at Sturt and Nolan Gallery opened by the Lord Mayor of Melbourne, Councillor Tom Lynch.
1982 Group Exhibition, 'A Decade in Diversity', A Survey Exhibition of Painters who Trained at Melbourne State College in The 1970s [Eleven Artists Selected]
1982 Jo.Reitze and David H. Roper, Waverley City Gallery
1976-8 Group Exhibition in The Western District-Camperdown, Derrinallum and Terang